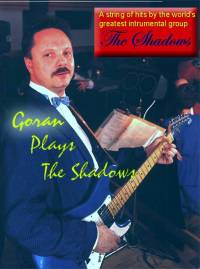 I'm a 63 year young civil servant, working with the City of Karlstad, Sweden, as
controller with the office of Real estate, property and city technical appliances.
My main interest is music though, and in particular the instrumental guitar-based music which
came to life in the early sixties with The Shadows (and other bands). I started playing guitar in 1964 by attending
an evening class, and ended up teaching one year later as my teacher had to retire from
playing after a hand-injury. I played in various bands during the late 60's, but never
instrumental music, only "pop music". From early 70's and up until recently I've been playing lead
with various "Dance Bands" as we call them. From the mid 80's I also took upon myself the role of an
"extra keyboard player" by means of midi-guitar, for which purpose I used (and still do, occasionally) a
Canadian IVL Pitchrider 7000 midi interface driving a Roland D10 and a Sound Canvas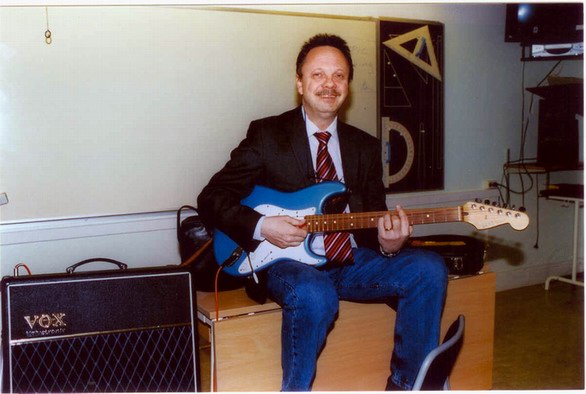 I have continued teaching guitar in evening classes since then, mainly rhythm from beginners to
advanced, but also American finger picking guitar for blues, country and ragtime. From time to time
I've also taught classical guitar by private lessons. I've found it hard to find time to keep up the ability to
play classical, so now that's just for fun.
I have established myself as a one-man-band with a Shadows-act
aiming for small pubs, corporation-parties etc. For that purpose I use a VOX Valvetronix 60 amp.
I also do some sequencing which has resulted in an interest in creating backing tracks
based upon my own and other's sequences and so I've sort of dedicated myself to making these tracks
as close to the originals as possible and to making the tracks available to all Shadows-loving friends
world-wide. I also put my own recordings on the site for reference if you should have
difficulties obtaining the originals for listening.
ALL DOWNLOADS ARE FREE (n.b. disclaimer)
I'm married with three children, all of whom have their own homes and I also have five grandchildren.
The family, however, is run by this little fellow who has his own website.
My full name is Göran Tångring but for the benefit of English-speaking friends I prefer to
call myself "Goran" on The Net.